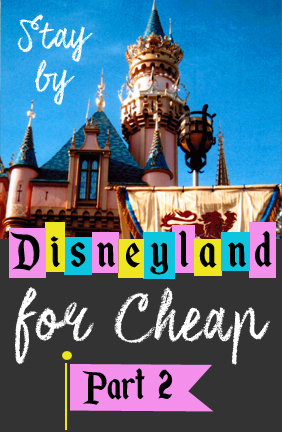 This is the third post in the series, Doing Disneyland for cheap. Don't miss Stay by Disneyland for Cheap and Travel to Disneyland for cheap.
In part 1 of Stay by Disneyland for cheap, I mention the ways you can save on hotel rooms. But there are other lodging options besides hotel rooms. Here are some options that we've tried:
Alternatives to hotel rooms
Timeshares
We've had a lot of success renting available rooms in a timeshare. There's no need to own a timeshare in order to rent. We've been able to rent rooms listed on eBay for $120 a night that sleeps eight. You could also find rooms on TripAdvisor and other condo rental services.
Camping
My family took their crew of six kids to Disneyland for our summer vacation the year that I graduated from high school. The only way they could manage it was to stay at a campsite.
If you already have the camping equipment or trailers, camping for your Disneyland can save you a lot of money. Plus the mild California weather makes it easy to camp year-round. You could stay on a beach or in the hills. Most spots range from $30-$60 a night.
The downside of camping for your Disneyland vacation is that these sites tend to be farther away from Disneyland than most hotels. Plus, it's camping. If you think roughing it is not having turn-down service, you won't like camping.
Here are some of the areas' sites available (arranged by distance to Disneyland):
Irvine Lake – $25 per night PLUS a daily fishing fee per person. 16 miles from Disneyland.
Note: Since there is a mandatory daily fishing fee per person ($24 per adult/$11 per kid), this option is not as economical as other options.
Featherly Regional Park – $75 per night cabin/ $60 per night RV. 20 miles from Disneyland.
Bolsa Chica State Park – $50-65 per night. 21 miles from Disneyland.
Note: Campers/trailers only.
O'Neill Regional Park – $20 per night. 29 miles from Disneyland.
Doheny State Beach – $35 per night. 34 miles from Disneyland.
Caspers Wilderness Park – $20 per night. 37 miles from Disneyland.
San Clemente State Beach – $35 per night. 39 miles from Disneyland.
San Onofre State Park – $65 per night. 40 miles from Disneyland.
Note: This was the area that my family stayed. It was fine; we got sand everywhere and sometimes the drive to Disneyland seemed very long. But it was easy to take a beach day between Disneyland days and just relax.
RVs
The only way that my brother and his brood of 8 travel to Disneyland is by motor home.  This allows them to stay together without having to rent multiple rooms. And they travel enough with their motor home to  consider it a good purchase for their family (They go to Disneyland at least two or three times a year).
If you own or can borrow an RV (Motor home or tow trailer), this would be a great option for you. Renting an RV may be more expensive than a hotel. However, if you want to rent an RV, this excellent article from TripAdvisor talks about the various costs you can expect when renting.
Most of the state parks listed above have spots for RVs. There are also several RV parks in Anaheim.
Relatives
If you have relatives in Southern California, you might consider staying with them. If you go with this option, make sure not to take advantage of your patient relatives. Offer to buy Disneyland tickets for them, so they can join you. Or pay for dinner out with them. At the very least, you should buy groceries.
As you can see, there are lots of way to save money on lodging for your Disneyland trip.
Next post: Disney pass discounts.
Be sure to subscribe to my newsletter to get all of the Disney posts for this series!