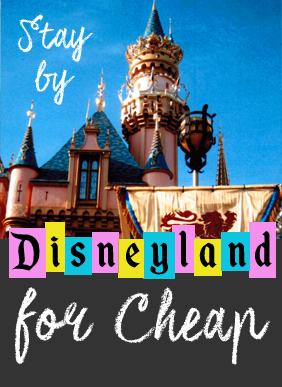 This is the second post in the series, Doing Disneyland for cheap. Don't miss Travel to Disneyland for cheap.
Now that you've gotten to sunny California, where do you stay?
That's the question, isn't it? You don't want to sink all your vacation money into a place that you'll be spending very little time. However, there are ways to save money.
Finding deals on hotels
Starry-eyed Disney fans swear by staying at one of the three Disneyland resorts because of the "magic."
Problem is, all that "Mickey magic" costs money. And unlike staying at Disney World, staying at the official Disneyland hotel delivers few benefits.
You should stay off-site.
One booking issue that we have is that we don't have the two adults/two kids dynamic that most hotel rooms want. In order to avoid getting two rooms, we end up renting a suite. Even though suites are more expensive, they're less expensive than two rooms.
Work out the search engines
The first step in finding the best prices on hotel rooms is to go to the internet. Choose your favorite hotel search engine, like hotels.com, kayak.com, or priceline.com.
Not only can you try general search engines, you can try specific Disney travel sites. We often use getawaytoday.com . For example, comparing the same room at the Cortona Inn and Suites, I found:
$235 a night through Hotels.com
$198 a night through getawaytoday.com
The nice thing about booking with getawaytoday.com is that you can get packages with Disney tickets. The Disney packages usually has one early entry day. If you book the room at the Cortona Inn and Suites with Disney tickets, you'll pay $190 a night.
But no search engine will return the lowest price every time. Make sure to search several engines for the best deal.
Walking versus driving
Almost every hotel in the Anaheim area claims to be close to Disneyland. Many people think if that they get close to the park, they can avoid parking fees at Disneyland. You can find hotels from 1/2 mile to a mile from the park.
And at first, it makes sense. Three-quarters of a mile doesn't seem far on that first morning walking to Disneyland. But when you've spent all day walking around Disneyland, that three-quarter mile walk seems like a death march. And it's not just the fatigue. One late night, as we dragged ourselves to the hotel room, we were accosted by two big young guys who asked for money for the shuttle.
Yeah, that's not an experience I want to repeat.
But if you stay at a hotel that's farther away, you can save more money than what you would spend on Disneyland parking fees. Hotels just a few miles away from Disneyland cost $50-$100 less a night than hotels close to Disneyland. This price difference more than makes up for the $17 a day in Disneyland parking fees.
Other things to consider
I try to book a room with the following amenities.
Breakfast – Most hotels that cater to Disneyland tourists offer some sort of free breakfast. Even if it's a continental breakfast, that's one last thing you have to worry about when getting out the door.
Fridge/Microwave – Although it's hard to get a full kitchen suite in a hotel when going to Disneyland, you can get a mini-fridge and/or a microwave to help prep meals to save money.
Don't worry about:
Shuttles to Disneyland – Many hotels have shuttles to Disneyland. The bad news is that the shuttle service is not free. If you've got more than a few people in your party, it gets pretty pricey to get to and from the park.
But hotels are not the only lodging option for your Disneyland vacations. Check out Stay by Disneyland for cheap, part 2.