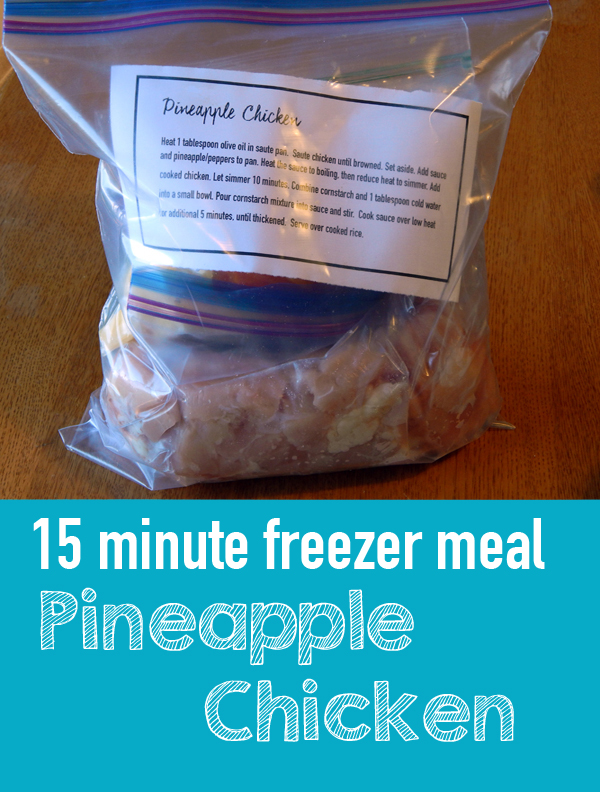 Hello everyone! I'm so sorry that I haven't posted in a while. I've spent the last few weeks sick. Like going to bed on Saturday and waking up on Wednesday type of sick. I spent most of the time making muffled hacking noises and drooling on my pillow.
While I was sick, I had serious issues with dinners. It's not because I didn't have food. I had plenty of prepped meat and vegetables in the freezer. I even had some freezer meals prepared. But my family was at a loss as to what to make for dinner.
The instructions on my freezer meals just weren't clear enough. Usually when I make up freezer meals, I scrawl something like Bake at 350 or the name of the freezer meal on the plastic, since I know how to prepare most of the meals. This just didn't cut it when I was incapacitated.
So I've resolved to start making freezer dinners more family-friendly. Something that even my junior high kid could cook if needed. The first meal? Pineapple chicken.
There are lots of pineapple chicken freezer meals on the web. However most pineapple chicken meals involve dumping the contents in the crockpot. I like crockpot freezer meals as much as anyone else. But cooking chicken in the crockpot causes it to shred. And I don't like shredded chicken for Asian dishes.
This meal takes about 15 minutes to prep, and 15 minutes to cook.
To prep meals for the freezer
This recipe makes up three meals – one for now and two for the freezer. You can adjust it as needed. Each meal serves 6 and costs $3.52 per meal.
You'll need:
Freezer bags – gallon size
Freezer bags – quart size
Sharpie or permanent marker
Printout here – pineapple chicken download
3 lbs boneless chicken breasts or thighs — $5.25
3 bell peppers — $1.50
3 20oz cans of pineapple chunks, juice reserved — $2.99
6 Tb soy sauce — $.12
3 garlic clove, minced — $.24
1 Tb grated ginger — $.11
1 Tb cornstarch — $.04
6 Tb brown sugar — $.12
First, cut up the chicken into bite-size chunks. Divide among three quart freezer bags. Seal and mark the chicken bags. Set aside.
Drain the pineapple and set the juice aside. Divide the pineapple among three quart freezer bags. Chop and seed the bell peppers. Divide between the pineapple bags. Seal and mark the vegetable bags. Set aside.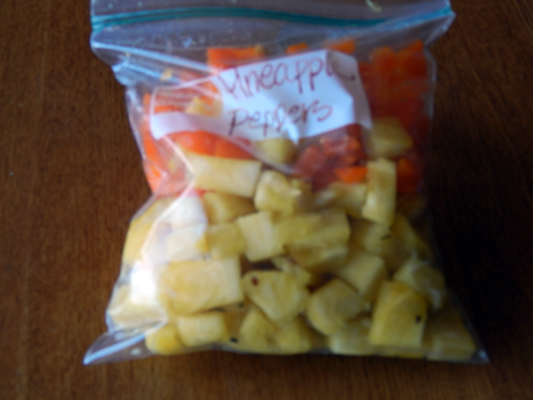 Next, prep the sauce for freezing. Combine brown sugar, pineapple juice, soy sauce, garlic, and ginger in a small bowl.
Here's a tip when prepping liquids for the freezer: line a cup with an empty freezer bag and pour the liquid in the cup. This keeps the liquid from spilling when you pour. A third of the sauce needs to go into the freezer bag. Seal and mark the sauce bag. Prep two more sauce bags and set aside.
Place 1 tsp cornstarch in a quart bag. Since you don't have to worry about freezer burn for cornstarch, you can place the cornstarch in a quart sandwich bag.
Place a bag of sauce, a bag of chicken, a bag of pineapple/peppers, and a bag of cornstarch into a gallon size bag. Place one of the cooking instructions from the PDF in the gallon bag with the rest of the quart bags (The instructions should keep dry). Bag the next two meals. Freeze.
This is best served over cooked rice or cauliflower rice. If you'd like, you can bag the uncooked rice, write instructions for cooking the rice, and tuck into the gallon bag. You can also fill a quart bag of prepared cauliflower rice and add to the gallon bag.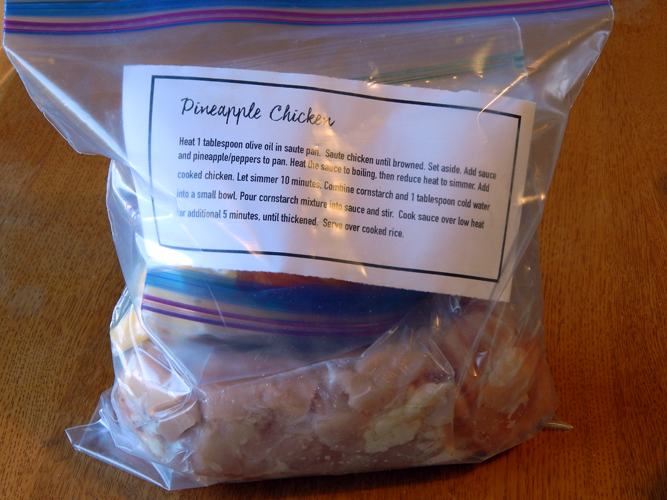 You can find this post at: