I love to give presents that I can make for far less than I can buy. So when I was invited to a baby shower, I took the time to make up some cute little onesies. Because a new mom can't have too many onesies!
I created some graphics to iron on the onesies and printed them out on my inkjet printer. Now you can make your own onesies with these free iron-on printables that you can download here!
I've found personalized onesies for about $10 an outfit. But you can make your own for far less. You can pick up basic onesies in a package of three for $9. Iron-on paper runs for $2 a sheet. For $11, you've got a present that's worth $30.
Here's what I've done:
I thought that these emojis accurately reflect baby's state sometimes.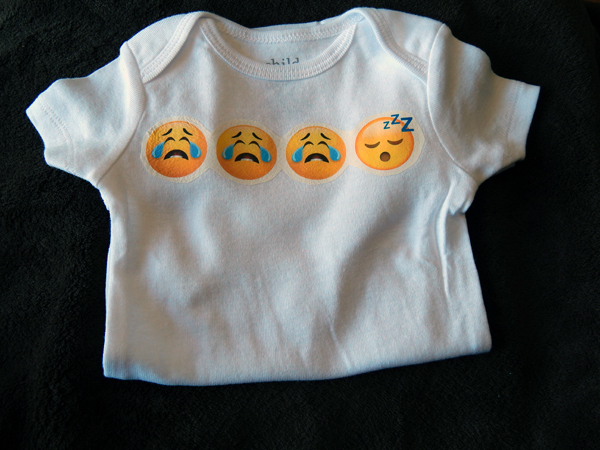 But it's not all tears. . .there's nothing sweeter than a baby's laugh.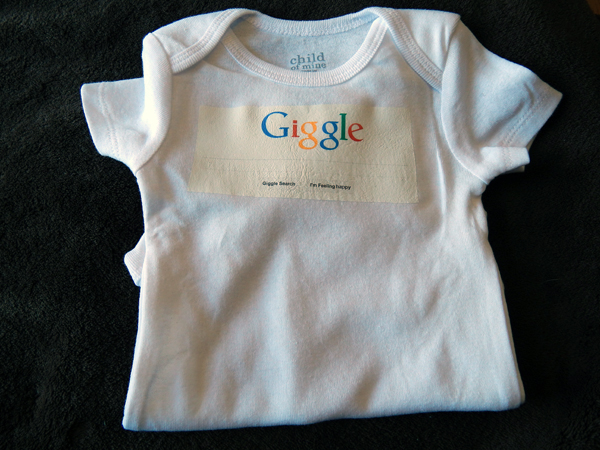 Here's another one:


And how bout this one?


And here's a couple for the back of the onesie. This butterfly graphic I downloaded from The Graphics Fairy and altered it for the back.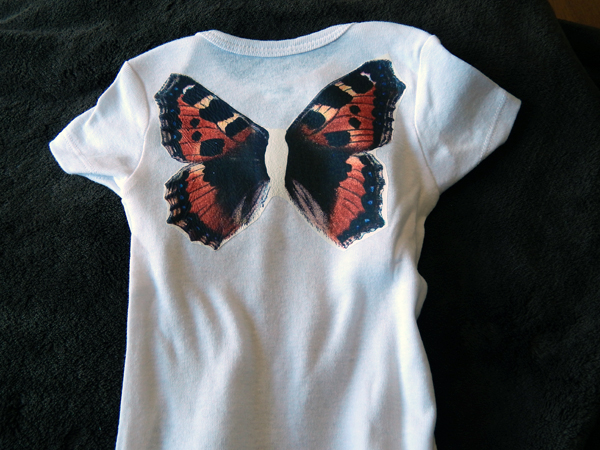 Here's some adorable angel wings.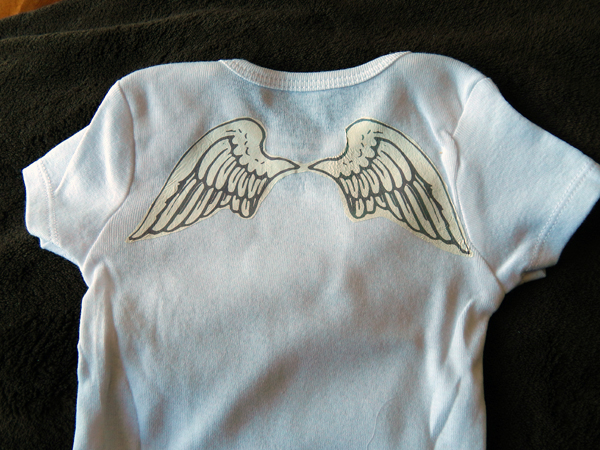 Oooh! I just want to dress up a little one in one of the these outfits and nuzzle his or her cute little neck! ( I swear I'm not baby hungry!)
The iron-on paper can be a big expense — $10 for 5 sheets. However, I've positioned the printables, so you can print off either two or four graphics per sheet. This brings the cost of the printables down to 50 cents to a dollar a graphic. Plus, you can get iron-on paper at craft stores as well as office supply stores, and use those JoAnn's and Michael's coupons to lower the cost of the paper even further.
I've been asked what paper I use. I've had a lot of success with Avery Dark Fabric Transfers paper. I like this brand because you can print transfers for dark T-shirts. But this paper works great for iron-ons on light T-shirts as well. There's no need to reverse the image when you print graphics out on the Avery dark T-shirt.
The iron-ons I created for the shower are gender-neutral, but I've also made some blue and pink graphics for you as well. You'll also notice that some of the graphics are reversed and some are not. That's because some T-shirt fabric transfer paper require you to reverse the graphics. However, you don't need to reverse the wings graphics.
Just print what you need. These graphics fit most sizes of onesies, although the butterfly wings and angel wings might be a little too big for a newborn onesie.
To download the PDF:
Click the above link.
When the PDF appears, right-click the image and select Save as. Save the document to your desktop or folder.
You can select the pages that you want to print, or print all of the pages.
You are more than welcome to use the graphics for personal use only. Create a few onesies for personal use or for gifts. And I'd love to see what you've done with the iron-ons!
I've had so much fun making up these graphics that I'll be featuring more posts with onesie iron-ons for you to use. Be sure to watch for those upcoming posts. I've got so many ideas! Plus, I'm taking requests. (My daughter has already requested little dragon wings for the onesie's back)
What's your favorite design?
This post contains affiliate links. If you purchase the item through the link, there is no additional cost for you, and I get a little extra.
You can find this post over at:
Works for me Wednesdays at Giving Up On Perfect
Penny Pinching Party at The Thrifty Home
Thrifty Thursday at Living Well Spending Less
The Handmade Hangout at Too Much Time on My Hands
Link Party Palooza at Tatertots and Jello