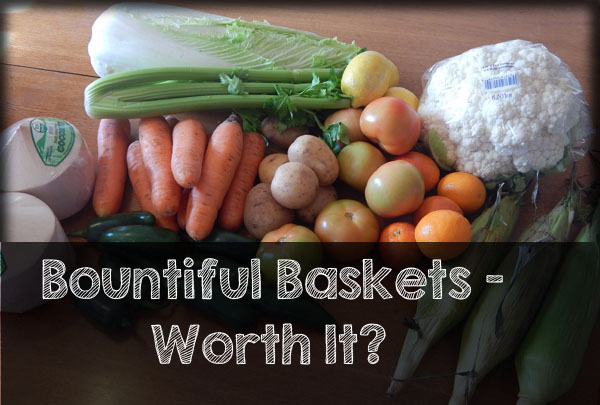 This is the first in a series of articles where I'll examine common cost cutting methods and see how they stack up.
The setup: Bountiful Baskets is a non-profit cooperative available in 24 states, mostly in the West and the South. At the beginning of the week, you order a basket for $15 (plus $2.50 handling fee) — an assortment of fruits and vegetables that Bountiful Baskets selects for you. You select a pickup location and on Saturday, pick up the produce (bring your own box). The produce is not strictly local, like a CSA. You can pay extra for an organic basket, as well as add-on specialty items. For more information, see www.bountifulbaskets.org .
I had heard about Bountiful Baskets for a while. People kept telling me how much they save with participating with Bountiful Baskets.
I was skeptical. "Really?" I thought. "There's no way that a single cooperative could beat my produce prices." I tend to shop a number of stores, and buy my produce during peak season to save the most money.
But I figured I'd give it a shot. I ordered a basket, brought it home, weighed, and counted the produce. Then I compared the produce to the prices I usually pay. First I figured the lowest price that I like to pay for my fruits and vegetables. Next I wrote down the price of the produce that I found in the stores for that week.
Here are my totals:
Bountiful Baskets Price Comparison

| Produce | Quantity | Bountiful Baskets | Grocery Sale Price | Grocery Average Price |
| --- | --- | --- | --- | --- |
| green grapes | 2 lbs | | .99/lb | 1.99/lb |
| pineapple | 2 lbs | | .75/lb | 1.25/lb |
| apricots | 4.2 lbs | | free | 1.99/lb |
| baby watermelon | 3 lbs | | .25/lb | .75/lb |
| plums | 2.3 lbs | | 1.49/lb | 1.99/lb |
| bananas | 2lb 10oz lbs | | .33/lb | .50/lb |
| potatoes | 5 lbs | | .99/lb | .99/lb |
| romaine | 1 head | | .88/lb | 1.25/lb |
| spaghetti squash | 1 lb 8.4oz | | .99/lb | 1.49/lb |
| mushrooms | 8 oz | | 1.49/lb | 2.50/lb |
| cucumbers | 2 | | 3/1 | .79 |
| Total | | 17.50 | 28.67 | 35.25 |
Wow. As you can see, there's quite a difference between the cost of the basket and the individual prices of the items — even when I buy them at the lowest sales price that I can get.
The nice thing about Bountiful Baskets is that, unlike a CSA, you are not committed to purchasing a basket each week. During the summer months, when our garden is producing more than we can eat in a week, we don't participate as often.
Bountiful Baskets may not be for everyone, however. You won't find Bountiful Baskets an excellent deal if:
You don't eat a lot of vegetables – Well, of course, if you are not willing to prepare and eat the fruits and vegetables, you'll waste a lot of produce.
You must have perfect vegetables – I haven't had a big problem with the quality of produce, but because it's packed and distributed by volunteers, some items may not be as picture perfect as found in the supermarket. Be sure to inspect your basket when you receive it.
You are uncomfortable with trying new items – We've found lots of interesting vegetables in our box, such as: multi-colored carrots, fennel, chayote, and parsnips. I've had to Google items a few times to figure out how to prepare and cook an odd fruit or vegetables.
Fortunately, Bountiful Baskets also has a great Pinterest board where participants post recipes. I'll also post a weekly menu plan using your basket items, so you can figure out what to do with all that produce!
What's your experience with Bountiful Baskets?
Bountiful Baskets did not pay or reimburse me for this post, and the links are not affiliate links. All opinions are my own.
This post is featured on