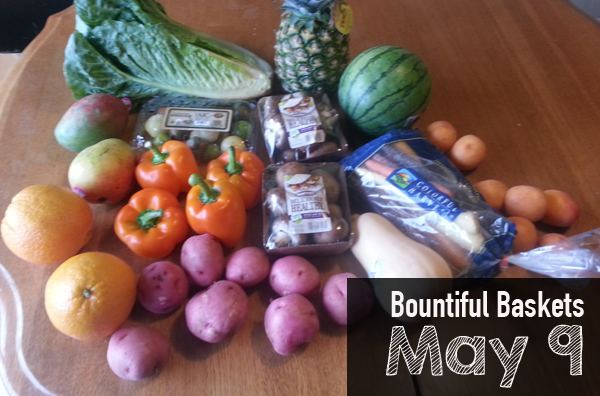 It feels good to bring you another Bountiful Baskets post, especially after the April that I lost due to illness. And oh boy, we've got a great basket this week!
Sweet peppers – Since I've got a lot of chopped sweet peppers tucked in my freezer for cooking, I'm going to turn these beautiful orange peppers into freezer stuffed peppers, like this
recipe from The Frugal Pantry .
Baby Portobellos – These were one of my favorite items in the basket this time. I think I'll saute and make them the star in a quick pasta. Yum!
Heirloom cherry tomatoes – The little container above the sweet peppers is filled with heirloom tomatoes. I've had mixed success with these little buggers. Some, like the dark Black Cherry tomatoes are sweet and thin skinned. Others like the Snow White and Green Zebra ones are a little more thick-skinned. I'l probably hoard the Black Cherries for salads and add the rest chopped to my portobella pasta dish. (Fun idea – the last time I got a box of heirloom cherry tomatoes, I saved the seeds from the Black Cherry and started a tomato plant. It may be too late in the year to grow a producing tomato plant from seed, but you could certainly save the seeds for next year, as shown in this slide show from Seed Savers Exchange. )
Watermelon and pineapple – I'll save these for a tropical fruit salad later in the week.
Apricots – I toyed with the idea of making up apricot chicken freezer meals, but decided against it. It's one of the few fruits that we got this week that my kids can just grab and eat without a lot of prep work. So, I'll leave the apricots for snacking.
Rainbow carrots – This was the other item that I was excited about. Did you know that carrots originally were purple, yellow, orange, and white? The orange carrot that we know today is a result of hybridization. I'll use these throughout the week as I would regular carrots. They would be yummy in a lunch with hummus and radishes straight from the garden.
Oranges – Because we've been eating oranges since December, my kids have been ignoring these lately. I think I'll juice them and freeze for the hot summer months, when an orange smoothie or orange chicken hits the spot. See my article on oranges for more information on how to do this.
Butternut squash – However, I'm still not done with pumpkin taste. I'm baking these as I type, and will freeze the flesh in 1/2 cup portions. Since we are moving into warmer weather, I'll probably make Pumpkin Overnight Oatmeal from The Fountain Avenue Kitchen.
Mangos – As we were putting the mangos away, my daughter put her hands on her hips. "Mom," she said. "The mangos are ripe. We hafta eat them for breakfast." How could I argue with that? So we did, with mangos topping our whole wheat pancakes. We have two green mangos left, so'll we'll eat them later in the week when they ripen.
Red potatoes. I'll serve these as a side dish with a pea gravy (one of hubby's favorites).
Romaine lettuce – I prepped this for storing, such as shown in my post, "Keep Lettuce Fresh with Kitchen Hack." It will be such an easy prep for salads later in the week.
How will you use your Bountiful Basket this week?