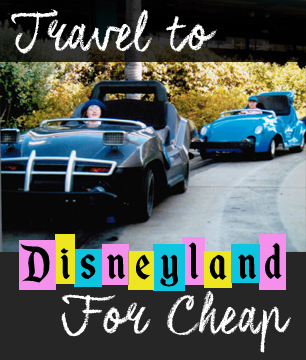 This is the first post in the series, The ultimate guide to doing Disneyland for cheap.
Disneyland is not for everyone.
Wait! Let me explain.
For those of us living in the continental United States, we're lucky to have two Disney amusement parks: Disney World and Disneyland.
Frankly, Disney World is much bigger. If you live in the eastern part of the United States, it doesn't make a lot of sense to go to Disneyland. It's much closer and cheaper to go to Disney World.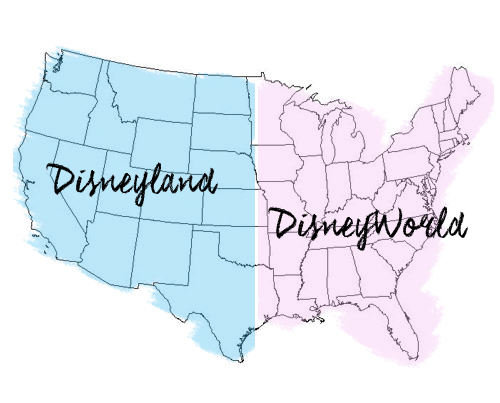 But for the rest of us, there's the original park. Here are the best ways to save getting there:
If you drive. . .
Driving is by far the cheapest option to get to Disneyland. That's one of the primary reason why you should go to Disneyland if you live in the western United States. Even if you come from Washington or Texas, it's only a two day drive to get to Anaheim. You could do the cross-country trek, but for your sanity I wouldn't recommend it.
Not only do you save airfare when you drive to Disneyland, but you'll have a vehicle to get around in Anaheim. The car culture in Southern California is legendary — you can't get anywhere without a vehicle. Having access to a car allows you to get cheaper food and cheaper lodging. If your own vehicle isn't an option to drive, you can rent a car. Even with the additional cost of the car rental, you'll still save lots of money over airfare. In fact, when we drive to Disneyland, we always rent a roomy SUV or minivan (depending on what's available). With the extra elbow room, this gets our crew to California with a minimum of pit stops and bloodshed.
Here's the breakdown of traveling with my family of six during a week in July:
Drive our own vehicles – $200 in gas (we don't have a car that fits six, so we'd have to take two cars)
Drive a rental vehicle – $439 plus $100 in gas = $539
Fly – $1446 plus $202 in shuttle fees to and from the airport= $1648
Ouch! Even with renting a car, we save over a thousand dollars getting to California by driving.
If you fly. . .
But what if driving isn't an option for you? You may be traveling to Disneyland from outside of the western United States or can't afford the extra time it takes to drive. You can still cut costs on your airfare:
Fly mid-week
Most people will schedule their vacation around the work/school week (like Monday-Sunday). However if you're willing to depart midweek, you can save a lot on your airfare. The cheapest days to fly are usually Tuesday, Wednesday, and Saturday. If you schedule your flight to and from on these days, you can save $50-$100 or more per ticket. I book flights first, then I book the hotel to get the best prices. Just open Google, put in your departure and arrival times, and play with your schedule to get the best prices.
Fly one-way instead of round-trip
This year, my daughter had a cheer competition in Anaheim. Because of the competition, she had to fly back on Sunday, one of the most expensive days to fly. A round-trip airfare would cost us $350. However, we found if she flew out of our local airport, she could get a one-way flight to California for $120. That airport didn't have a return flight on Sunday, so she returned by flying into an airport 50 miles away. That flight was $170. The total for both one way flights was $290 — a savings of $60 per trip.
Compare airports
Not only can you save on your flight by the day you fly, you can also save depending upon the airport that you fly into. There are three airports that serve the Anaheim area:
John Wayne airport – 14 miles from Disneyland
Long Beach airport – 24 miles from Disneyland
LAX – 34 miles from Disneyland
When you check airline flights, be sure to check flights for all three airports. John Wayne may be the closest to Disneyland, but flights tend to be more expensive than from LAX or Long Beach. Long Beach is a much smaller airport, and you can get good pricing if you are flying from other Western cities. However, you may not get a great flight (or even a flight at all) if you fly into Long Beach from the East Coast. LAX is a big international airport, and is a great bet for flights from outside of the United States or from back east.
Fly through Las Vegas
Instead of flying directly into Southern California, stop in Las Vegas. Why? Because flights in and out of Vegas are some of the cheapest flights in the country. And Orange County is only a short four hour drive from Vegas. Just rent a car and drive the rest of the way. For example, check out the map below for a typical flight from Cleveland, Ohio to Los Angeles:
You can see that the flight is almost $500. And that's to LAX. Flights to John Wayne were even pricier. Now let's compare flying to Las Vegas from Cleveland: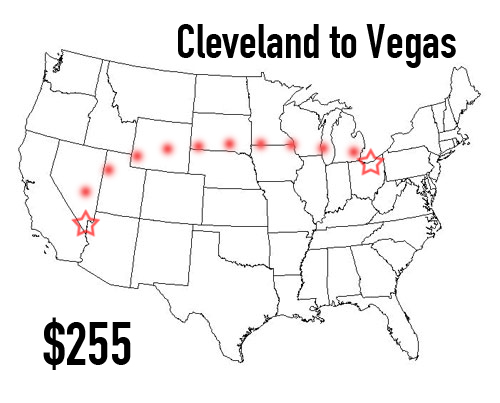 That's a savings of over $200! There are many discount airlines, like Spirit and Frontier, that fly into Vegas but may not fly into Southern California.
Other flight tips
FareCompare  has a page on general flight booking tips that you should also check out.
Getting there is just the beginning. . .
As you know, getting to Disneyland is just a part of your vacation budget. Check out the other posts in my series to save on lodging, food, and more!