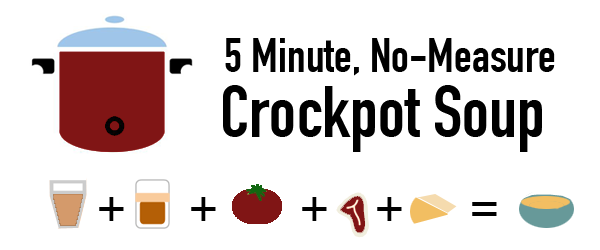 Crockpot soups are soooo nice to come home to. They're warm, comforting, and easy.
But trying to follow a recipe at seven in the morning is a little too much effort for me.
I know, I know. You can put all the ingredients in the crock pot the night before and refrigerate the crockpot until morning.
But that involves planning. And some days, that's more planning than I want to deal with.
For those days when mornings are hectic, I rely upon the 5 minute, no-measure crockpot soup.
You can throw together this soup in five minutes, plug in the crockpot, and leave it to simmer. Come back — instant dinner.
To make 5 minute, no-measure crockpot soup, just follow the chart below. Start with a liquid, like chicken broth, add a few vegetables from column A, protein from column B, add some spices. And baby, you got a soup going on!
I'm serious about the no measuring. . .you just eyeball everything. And this recipe scales — you can make it in a small 4 quart crockpot enough for two with leftovers, or feed the block with an 8 quart crockpot. Just follow the ratios: 1/2 liquid, 1/4 vegetables, 1/4 protein.
Crockpot soup is very forgiving. Here are the details:


Liquids – Pick the flavor you want and fill the crockpot up half way. Spaghetti sauce is good for minestrone type soups, milk for chowders, and clear broths for almost anything. If using milk, be sure to use skim or 2% milk. Higher-fat milks tend to curdle.

Vegetables – You can fill the crockpot 1/4 full with bite size chopped vegetables. Frozen vegetables work great, as well as leftover vegetables from the night before. Limit it to three kinds of vegetables to avoid weird combinations.

Meats and other proteins – I always have a few bags of precooked chicken or hamburger stashed in the freezer. Cans of beans are even easier to add to your soup.  Just dump your protein in, filling up the crockpot, leaving 1-2 inches headspace.

You can be a lot less exact with spices than other types of cooking. Toss in a chopped onion, some minced garlic, and some celery. Feel free to leave out the onion or garlic if you don't like. Toss in the other spices, a good pinch, depending upon how you want the soup to turn out. I just grab a small spoon from the silverware drawer and use it to add the spices.
I like to salt the soup just before eating. It's lots easier to adjust salt and heat at the end of the cooking time.

These are the finishing touches that really makes the soup. Add them just before serving. You can stir them in or top your soup with them.
And finally, give your soup a good stir before leaving it unattended. I confess, I tend to forget this last step. Often I've come home and lifted the lid to view an island of dried out vegetables and meat in a pool of liquid.
Here's your handy chart:

Hey! I'm at the Works for Me Wednesday link party at the giving up on perfect blog. Come join us!
You can also find me at: